PRODUCT INFORMATION
CUSTOMER REVIEWS
PRODUCT INFORMATION
It is a short 1pcs carbon blank with a length of 150 cm that can be easily controlled in a valley boat or kayak. It depends on the length of the grip, but it is a fast regular type blank that can properly respond to full-scale boating.
Please contact us for shipping costs at maxlim@naver.com or whatsapp 82-10-2602-7129
| Model No. | Length | Pcs | Line | Lure | Action | Power | Weight | Tip | Butt | Color |
| --- | --- | --- | --- | --- | --- | --- | --- | --- | --- | --- |
| VS491MH | 150.55cm (4.9ft) | 1pcs | 8~14lb | 1/4oz ~ 1/2oz | FAST REGULAR | MH | 19.4g | 2.0mm | 9.6mm | Matt Black |
Blank Power Display
It is a 4.9-foot blank exclusively for kayak and bellyboat users, which was produced by modifying the mold and carbon lapping twice in the initial production.
Actual power is blank, slightly less than MH. It is a typical fast-regular action blank that can handle worm fishing, spinners, and hard baits together. From the top of the blank to the 1/3 point, it shows medium power, and from the 1/2 point, you can feel the power of the MH rod. And the bend curve maintains the most ideal condition.
The blank taper from the top to the butt is relatively large, so it is a blank that sufficiently prepares for the phenomenon of the rod turning during landing, and when configuring the spiral guide, it will be a more complete rod than casting and landing, which is more stable than straight arrangement.
When arranging guides, it is recommended to start with WSG-10 and finish with KWSG-8, DBSG-6, or LDBSG-4 (5 or 6) for the butt part.
(The LDBSG series of single leg guides are recommended as they can withstand high loads)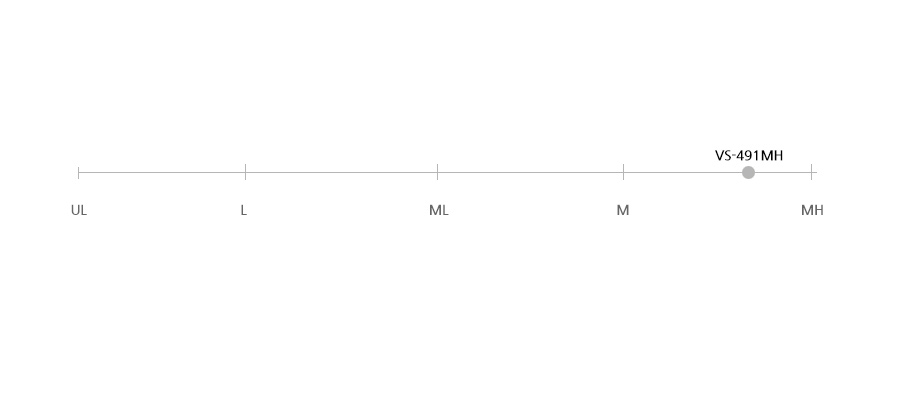 Blank Bending Curve